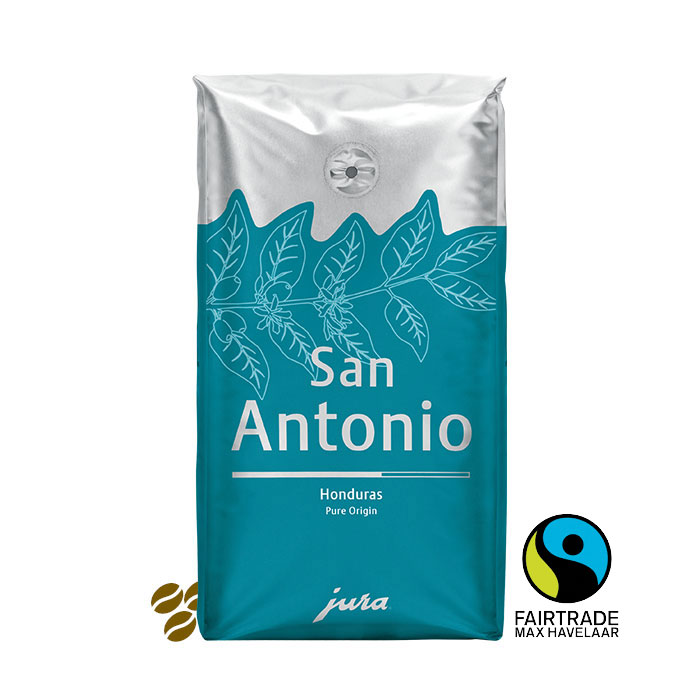 JURA San Antonio
Single Origin

Origin / crop
The plantations are situated in the north of Honduras in the region of San Antonio de la Cumbre. Here, the coffee plants grow at an altitude of between 1,200 and 1,500 metres above sea level in close proximity to a diverse array of tropical plants.

About this Coffee
All of the coffee is Fairtrade certified and grown by Fairtrade producers.

Flavour
The coffee is delicate and refined. The very subtle hint of dark chocolate and water melon lends a suave, delicate sweetness to the coffee.

Recommendation
Ideal for enjoying as a café crème. Milk perfectly complements the delicate sweetness of the San Antonio blend. This coffee can be deliciously combined with a fruits of the forest gateau.
At a Glance
Beans
100 % Arabica, fairtrade-certified
Origin
Honduras
Best for
Specialities
with milk
Quantity
250 g, Coffee Beans

Fair Trade Coffee
Fairtrade-certified coffee, enables the Farmers to benefit from guaranteed minimum prices that cover the costs of sustainable production. In addition, it provides the Fairtrade premium, democratic organisational structures, training for producers, good working conditions and environmentally friendly farming. Fairtrade helps farmers' organisations to become self-confident trading partners on the world market.
2022 RICMAS International Pte. Ltd. • last update February 20, 2022