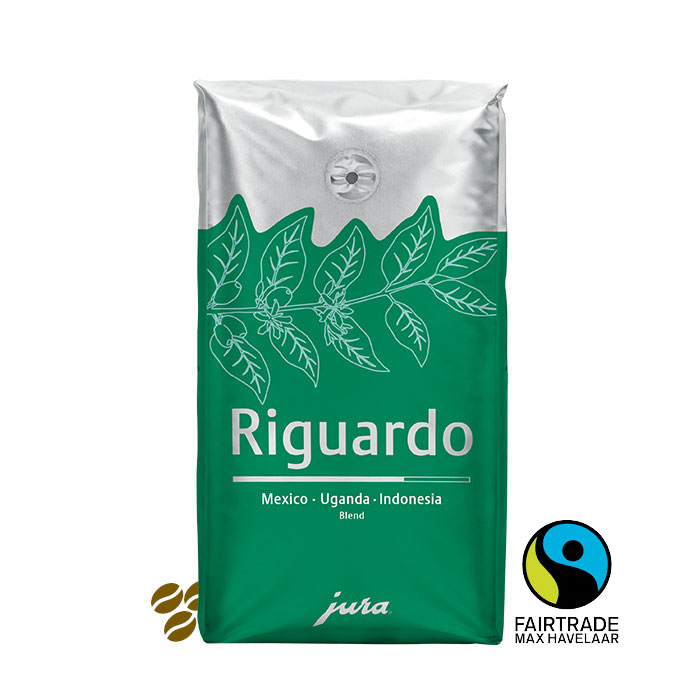 JURA Riguardo
Blend

Origin / crop
The raw coffee comes from three cooperatives: FIECH in Mexico, Bukonzo Joint in Uganda and Gayo Megah Berseri in Indonesia. In all three countries the coffee grows at altitudes of 1,400 to 2,200m above sea level and is carefully hand-picked.

About this Coffee
All three cooperatives are Fairtrade-certified. The coffee also comes from a source certified as organic. Foods with the organic seal are produced in an ecologically and biologically safe manner. The environment is protected, energy is used responsibly, human interference with nature is avoided and natural life cycles are taken into account. By choosing products bearing the organic label you are making a positive contribution to environmental protection and biodiversity.

Recommendation
This coffee is ideally suited to strong espressos. Alternatively, mixed with milk, it produces a perfectly balanced sweet coffee.
At a Glance
Beans
100 % Arabica, Fairtrade-certified
Origin
Mexico, Uganda, Indonesia
Best for
Espresso
add milk for a delicate sweetness
Quantity
250 g, Coffee Beans

Fair Trade Coffee
Fairtrade-certified coffee, enables the Farmers to benefit from guaranteed minimum prices that cover the costs of sustainable production. In addition, it provides the Fairtrade premium, democratic organisational structures, training for producers, good working conditions and environmentally friendly farming. Fairtrade helps farmers' organisations to become self-confident trading partners on the world market.
2022 RICMAS International Pte. Ltd. • last update February 20, 2022