Truly sublime coffee
It's here – the ideal full-size coffee machine for those who want to focus on the essentials: coffee made to perfection.
The E4 is especially suitable for making black coffee specialities. The Professional Aroma Grinder, the eighth-generation brewing unit and the 3D brewing process all help to create a full-bodied aroma. Always freshly ground, not capsuled. There are three intensity levels to choose from. The intuitive symbol display allows the user to select the required option with just one touch.
The functions also include hot water preparation. As with its features, the E4 is also pared back to the essentials when it comes to design. Crafted with maximum precision, the minimalist lines emphasise its premium quality.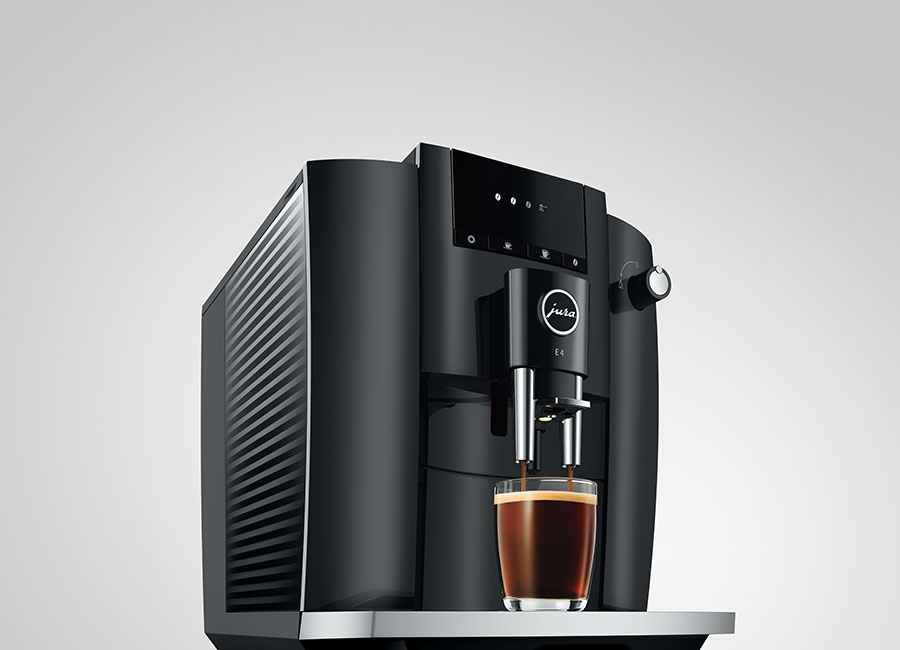 JURA E4 black

Professional Aroma Grinder and 3D brewing process for the perfect cup of coffee
Intuitive operation – one touch of a button is all that's needed
4 Products all black Coffee only.
Quick preparation of hot water
Characteristic JURA design and premium craftsmanship
PURCHASING THE JURA E4 BLACK
15435 JURA E4 BLACK
Available at:
RICMAS International Pte. Ltd.
C.K. Tangs Department Store
Takashimaya Department Store
Most popular
Purchase from our Web Shop
Enjoy special Pricing on Machines from our Web Shop. Also check-out the Machine Bundles, which are exclusive to the Web Shop.
SPECIFICATIONS JURA E4 BLACK
JURA Standards
Number of speciality coffees
5
Pulse Extraction Process (P.E.P.®)
Variable brewing unit
5 - 16g
Grinder
Professional Aroma Grinder
High-performance pump
15 br
Thermoblock heating system
1
Fluid System
1
Aperture for ground Coffee
Aroma preservation cover
Hygiene standards
Intelligent Water System (I.W.S.)
CLARIS Filter Cartridge
CLARIS smart
Integrated rinsing, cleaning and descaling programme
Monitored drip tray
JURA hygiene: TÜV-certified
Energy standards
Energy Save Mode (E.S.M.©)
Zero-Energy Switch or power switch
Programmable switch-off time
Specific Advantages
Intelligent preheating
3D brewing technology
WiFi connection to home network
Transmitter supplied as standard
Operating and programming standards
Compatible with J.O.E.®
Display
Symbol display
Programmable and individually adjustable amount of water
Programmable and individually adjustable coffee strength (Levels)
3
In Figures
Height-adjustable coffee/hot water spout
65 –111 mm
Water Tank Capacity
1.9L
Bean container holding capacity
280g
Coffee grounds container
16 Serving
Voltage / Power
230 V ~ / 1450W / 10A
Stand-by power
0W
Weight
9.8 kg
Dimensions (W × H × D)
28 × 34.6 × 44.4 cm
Article Number
15435
ACCESSORIES MATCHING THE JURA E4
CARE MATERIAL FOR THE JURA E8
SEE THE MAINTENANCE TASKS IN A VIDEO
ENERGY LABEL JURA E4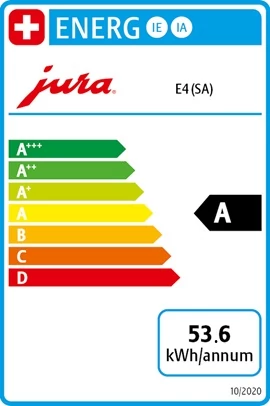 By Swiss Federal Energy Efficiency Ordinance.
Tested in accordance with EN 60661
VIDEOS WITH THE JURA E4 BLACK
PICTURE GALLERY JURA E4 BLACK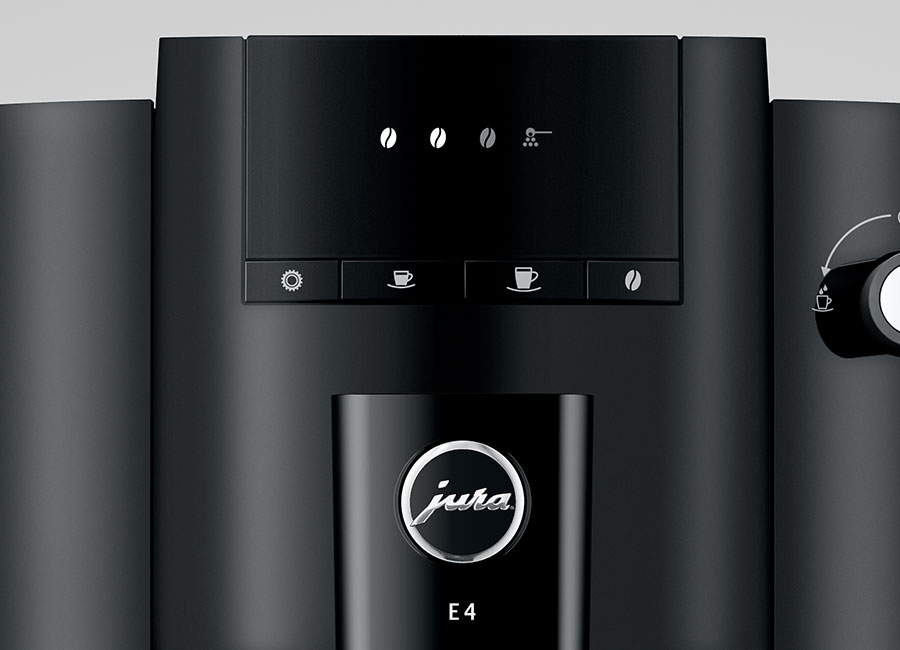 Easy Operation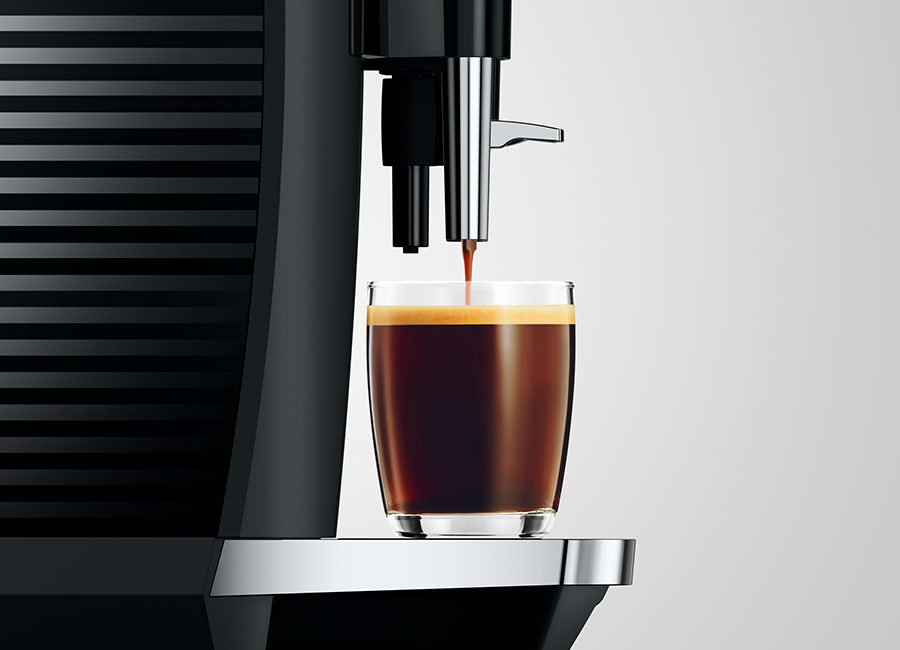 Freshly gound, not capsuled with P.E.P.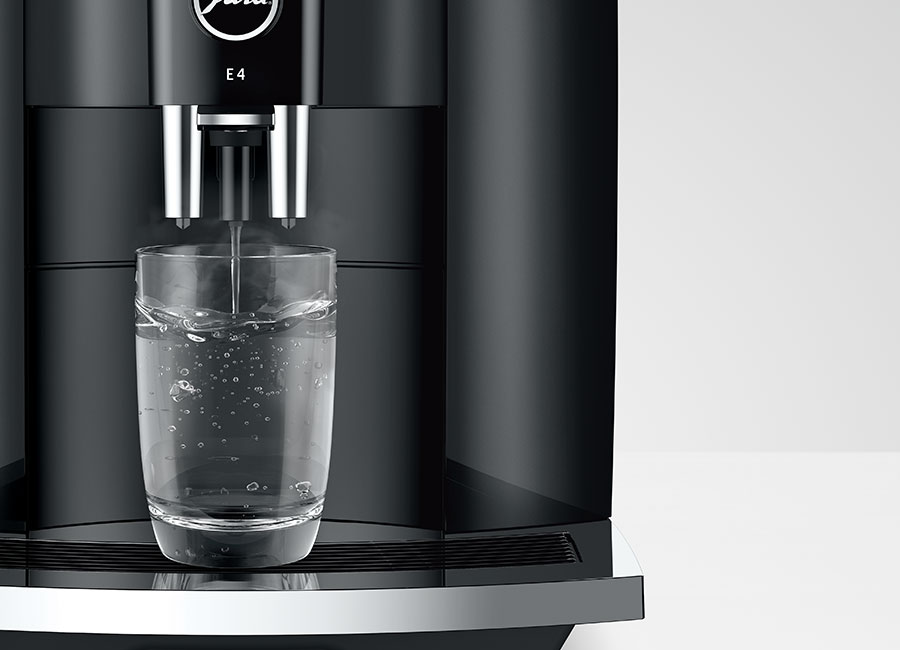 Hot Water in no time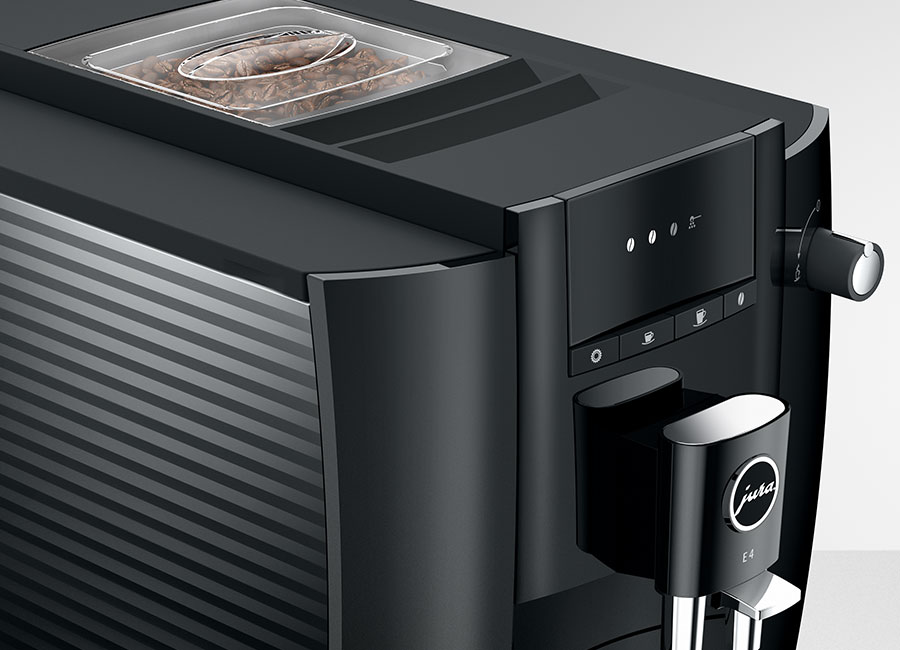 Harmoniuos Design
ENERGY JURA E4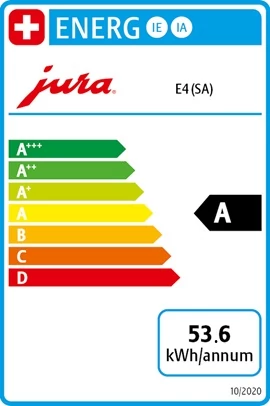 Energy Efficency certified by HKI CERT for large Kitchen Equipments Germany
2022 RICMAS International Pte. Ltd. • last update July 15, 2023