CURTIS G4 ThermoProX Single
Maximum performance meets flexibility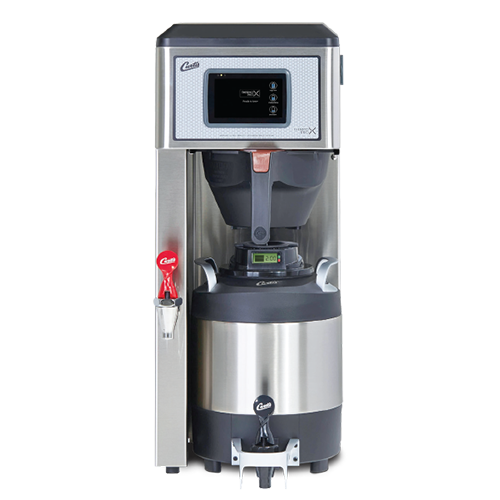 G4 ThermoProX Single
The Curtis G4 ThermoProX Single filter coffee machine combines elegant looks with the innovative functions of the Curtis ThermoPro® brewing system. The vacuum-insulated stainless steel containers based on the ThermoProX, with a capacity of 3.8 litres, keep the coffee at the optimum serving temperature for up to four hours without the need for external heat input, and guarantee a high quality coffee supply. In addition, they can be set up anywhere in the room independently of the brewing unit, expanding the range of coffees that can be offered, including with regard to different roasts and taste profiles. This makes the Curtis ThermoProX ideal for applications with a high volume of guests, including self-service restaurants, petrol stations and service areas or bakeries in busy locations.
Elegant design with rounded corners, sloping top, slim side walls and an eye-catching, structured honeycomb front panel
Up to four hours of hot and aromatic coffee through vacuum-sealed stainless steel ThermoPro dispensing containers
Patented filter brewing device for optimum brewing process
Stylish hot water tap for preparing tea, soups, instant products etc.
SPECIFICATIONS
Power
1P/N/E 230V 2.787 kW
Size (H x W x D)
66.1 x 27.9 x 50.1 cm
Weight
20.0 kg
Capacity
34 L per Hour
Water supply
Fixed Water Connection

ITEMS INCLUDED IN SUPPLY
03.6010.1117
G4 ThermoProX Single
33.7500.3458
Paper filter Box of 500 Pcs.
33.7500.0753
Amber Sprayhead
33.7500.1952
Brew basket with splash pocket
BROCHURE
USER MANUAL
AutoCAD
PRICES
03.6010.1117
G4 ThermoProX Single
SGD 3,795.00
33.7500.3458
Paper filter Box of 500 Pcs.
SGD 87.40
33.7500.0753
Amber Sprayhead
SGD 29.30
33.7500.1952
Brew basket with splash pocket
SGD 87.40
03.6010.0649
ThermoProX Dispensing Container
SGD 841.50
2022 RICMAS International Pte. Ltd. • last update September 13, 2022