CURTIS G4 Gold Cup Single Cup Twin
Perfect filter coffee conforming to the SCA Golden Cup Standard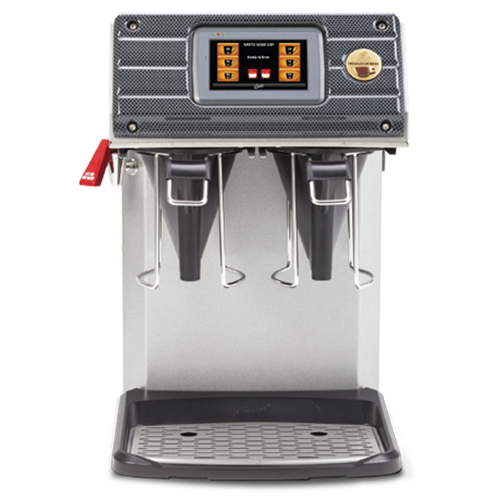 G4 Gold Cup Single Cup Twin
The Curtis G4 Gold Cup Single Cup Twin filter coffee machine was developed with the aim of preparing coffee of a quality that meets the Golden Cup Standard of the SCA (Specialty Coffee Association) while doubling the brewing capacity. In addition to the added overall capacity the machine also provides full flexibility to the operator to controlling all aspects of the brewing process such as extraction time, temperature, volume, pre-infusion, pulse-brewing and bypass.
Developed for preparing the perfect "Americano"
Adjustment for current demand levels: can be equipped with filter containers for single cup dispensing or for jug dispensing
Filter moistening function: Before starting the brewing process, the paper filter can be rinsed with hot water to remove any undesirable paper taste
Stylish hot water tap for preparing tea, soups, instant products etc.
SPECIFICATIONS
Power
1P/N/E 230V 2.787 kW
Size (H x W x D)
46.2 x 38.3 x 53.3 cm
Weight
15.4 kg
Capacity
45 L per Hour
Water supply
Fixed Water Connection

ITEMS INCLUDED IN SUPPLY
03.6010.0549
G4 Gold Cup Single Cup Twin
33.7500.1418
Brew Basket
33.7500.3469
Paper filter Box of 480 Pcs.
33.7500.0329
Purple Sprayhead
33.7500.1623
Grey Sprayhead
BROCHURE
USER MANUAL
AutoCAD
PRICES
03.6010.0549
G4 Gold Cup Single Cup Twin
SGD 4,207.50
33.7500.3469
Curtis Paper filter Box of 480 Pcs.
SGD 87.4
33.7500.0329
Purple Sprayhead
SGD 12.75
33.7500.1623
Grey Sprayhead
SGD 12.75
33.7500.1418
Brew basket assembly for open brew
SGD 87.40
2022 RICMAS International Pte. Ltd. • last update September 13, 2022