CURTIS G4 Gimini twin
Intelligent coffee preparation and service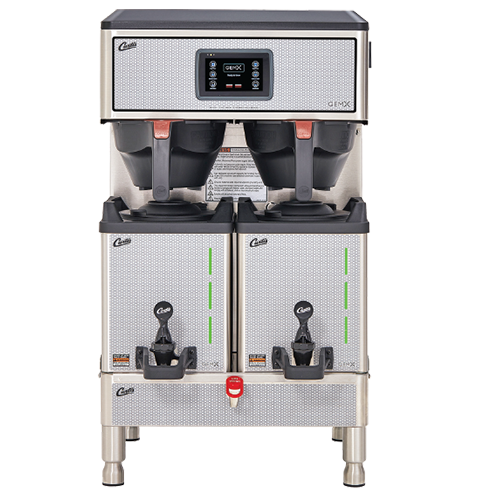 G4 Gimini twin
The Curtis G4 GemX Twin Gemini® filter coffee machine is a topof-the-range machine with elegance and rich in features similar the GemX Single. It sports a G4 Digital Control with a 10.92 cm icon-driven touchscreen making operations intuitive and simplified. It provides precise control over all aspects of brewing such as time, temperature, volume, pre-infusion, pulse-brewing and water bypass. Locking lid and brew cone ensure staff and customer safety during brewing. The G4 GemX Twin has a maximum hourly output of 113 liters perfect for any medium to high volume applications.
Custom-branded satellite containers possible in accordance with customer specifications
Patented, rapidly wetting AFS spray head made from plastic
Robust, mineral-resistant design
Insulated control board to protect against steam, water and impact
Individual brewing volume can be set: 1.9 liters, 3.8 liters or 5.7 liters
Stylish hot water tap for preparing tea, soups, instant products etc.
SPECIFICATIONS
Power
1P/N/E 230V 9.202 kW
Size (H x W x D)
81.0 x 46.1 x 57.6 cm
Weight
38.6 kg
Capacity
113 L per Hour
Water supply
Fixed Water Connection

ITEMS INCLUDED IN SUPPLY
03.6010.1867
G4 Gimini twin
33.7500.3458
Paper filter Box of 500 Pcs.
33.7500.0753
Amber Sprayhead
33.7500.2138
Kit, Holder Flavor Clip
03.6010.1017
2 x GemX Satellite 5.7 L Dispenser
BROCHURE
USER MANUAL
AutoCAD
PRICES
03.6010.1867
G4 Gimini twin
SGD 7,425.00
33.7500.3458
Paper filter Box of 500 Pcs.
SGD 87.40
33.7500.0753
Amber Sprayhead
SGD 29.30
33.7500.2138
Kit, Holder Flavor Clip
SGD 11.50
03.6010.1017
GemX Satellite 5.7 L Dispenser
SGD 1,056.00
03.6010.1015
GemX Single Stand
SGD 841.50
03.6010.1016
GemX Twin Stand
SGD 1,056.00
2022 RICMAS International Pte. Ltd. • last update September 13, 2022