CURTIS G3 Alpha Decanter
The embodiment of coffee and service quality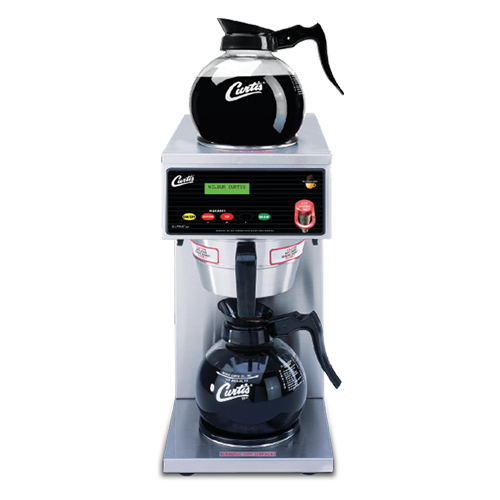 G3 Alpha Decanter
The Curtis G3 Alpha Decanter filter coffee machine embodies both US coffee culture and Curtis' dedication to quality. With an hourly output of 15 liters, two heating plates and G3 technology for process reliability and easy operation on board, it ensures a high-quality coffee supply; in the classic "American Diner", during a hotel breakfast or in self-service restaurants.
Intuitive Programming: The large, brightly lit display communicates the functions at a glance
Factory-set for immediate commissioning
Tamper-proof: Changeable access code prevents unauthorized settings
Elegant glass decanter with 1.9 litre capacity sold separately
Stylish hot water tap for preparing tea, soups, instant products etc.
SPECIFICATIONS
Power
1P/N/E 230V 2.426 kW
Size (H x W x D)
48.0 x 23.2 x 51.8 cm
Capacity
15 L per Hour
Water supply
Fixed Water Connection

ITEMS INCLUDED IN SUPPLY
03.6010.1119
G3 Alpha Decanter
33.7500.2412
Brew Basket
33.7500.3457
Paper filter Box of 1,000 Pcs.
33.7500.0329
Purple Sprayhead
BROCHURE
USER MANUAL
AutoCAD
PRICES
03.6010.1119
G3 Alpha Decanter
SGD 2,508.00
03.6010.1917
1 Glass Decanter 1.9 L with Black handle
SGD 59.40
03.6010.1327
3 Glass Decanters 1.9 L with Black handle
SGD 70.95
03.6010.1157
24 Glass Decanters 1.9 L with Black handle
SGD 519.75
33.7500.3457
CR-10: Paper Filter Box of 1,000
SGD 57.50
33.7500.0329
Purple Sprayhead
SGD 12.75
33.7500.2412
Brew Basket
SGD 87.40
2022 RICMAS International Pte. Ltd. • last update September 15, 2022