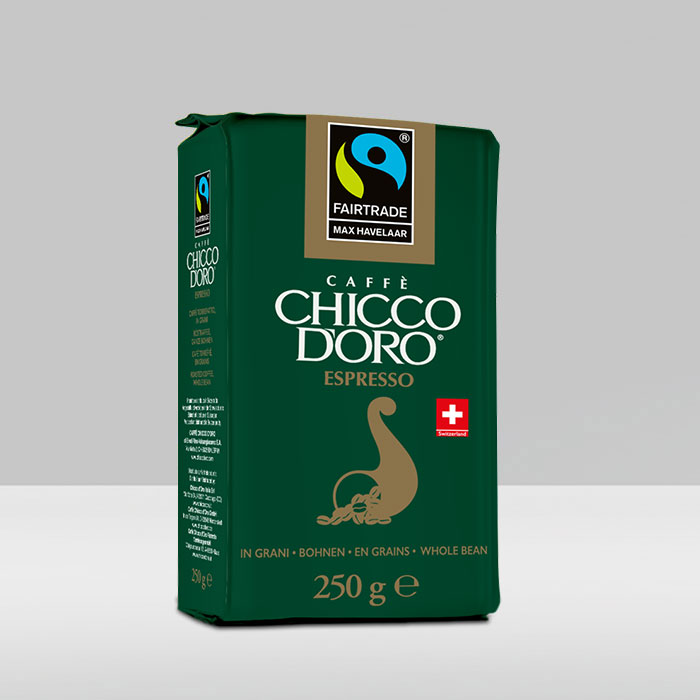 CAFÈ CHICCO D'ORO ESPRESSO
Blend

DESCRIPTION
A special blend from the coffee plantations where the Max Havelaar Foundation subsidizes the coffee farmers' harvest. Fair trade for third-world producers is the declared aim of the co-operation between Chicco d'Oro and Max Havelaar. The foundation guarantees the producers the minimum price necessary for them to at least break even. The product is purchased direct, thus eliminating intermediate trading. Whoever drinks Max Havelaar coffee, has the reassurance that the growers are getting a fair deal.

Fairtrade-certified coffee, enables the Farmers to benefit from guaranteed minimum prices that cover the costs of sustainable production. In addition, it provides the Fairtrade premium, democratic organisational structures, training for producers, good working conditions and environmentally friendly farming.
At a Glance
Beans
70 % Arabica, 30 % Robusta
Origin
Mexico, Brazil, Uganda
Best for
Espresso
and Espresso specialities with milk
Quantity
250 g, Coffee Beans
2022 RICMAS International Pte. Ltd. • last update February 27, 2022